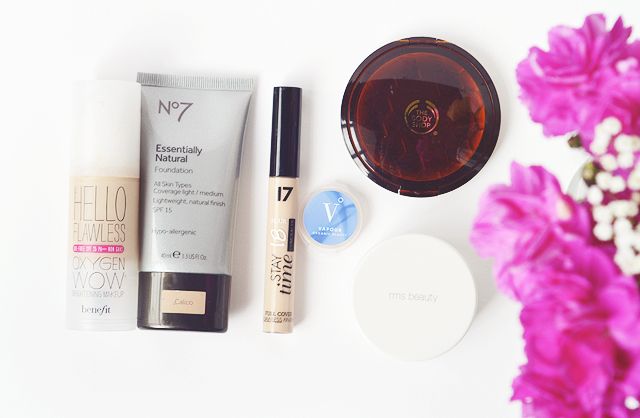 It's no secret I'm not a big fan of a face full of slap, anything but thank you. I try my hardest to look after my skin, I spend all my money on skincare but unfortunately it's nowhere near flawless enough to go with a bare face, it gets me down a lot of the time having to cover up so many horrible imperfections on my skin, but that's just the way it is. I also (despite what it may sound like) do actually like makeup! I'm known to rock a red lip when nobody's home just for fun. And then wash it off before anyone sees... I'm working on it!
Lately I've been wearing a little more makeup than usual and thought I would share what a typical days face consists of... normally I post a cheeky shot of my face (I know, so rare!) but as I'm not feeling too confident about that right now you'll have to imagine. But
here's an old post
if you forget what I look like ;)
I mix my perfect base with equal parts
Benefit Hello Flawless
(too yellow) & No7 Essentially Natural (too pink) both in the palest shades available. Together they do something magic and work like a dream for me. I try and only apply a small amount of foundation where I need it and blend out from there, using concealer for the tricky bits.
As I'm trying to switch to more natural makeup eventually (everything takes forever to use up!) I've been trying a little sample of the
Vapour Illusionist concealer
in 010, it's certainly beats the Seventeen Stay Time I'm currently using. I'm itching to order the full size.
A staple in my routine, black eyeliner is next and occasionally a little cat eye from the Collection 24/7 felt tip liner. I curl my lashes using a cheap and cheerful
Models Own curler
, I'm not convinced £20 needs to be spent on curlers just yet... & my favourite everyday mascara (in a little sample size)
No7 Exceptional Definition
, so easy to use & no flakes or smudges in sight, a winner in (and on!) my eyes. I then use the Barry M pencil for my eyebrows, I'm pretty terrible at remembering to do my brows at all and really need to find something better to use.
For lips I'm addicted to the
Soap & Glory Sexy Mother Pucker Gloss Stick
in 'Bashful' but have also been using a little sample of the
RMS Lip Shine
in Sacred, what I thought was a bright red is more of a scary hot pink, but I apply a tiny amount to stain my lips and apply the gloss stick over the top for a pretty little combo. Aaaaand we're done!!
How do you feel about makeup? go big or go home or perhaps the barely there look is best?