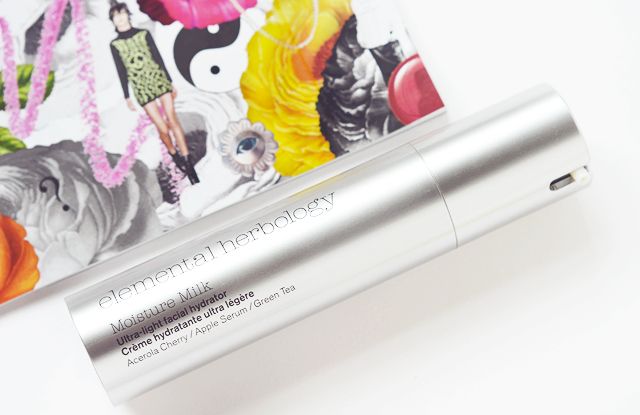 As soon as I discovered Elemental Herbology... I was smitten. I think it's the name, it just sounds so dreamy. And the packaging! I know we pay for it but I love when a brand puts real thought into their packaging.
I purchased the
Elemental Herbology Moisture Milk
a few months ago now when I was in desperate need of a new day moisturiser. I didn't intend on purchasing this at first but stumbled across it on
Look Fantastic
on offer for around £30 I think, I had a discount code for their site which happened to work and reduce it even further for me, and in the end it was a complete bargain! I couldn't say no as I'd been wanting to try something from the brand for so long!
The Moisture Milk is an "Ultra-light facial hydrator" and has a serum like consistency, it's really hard to describe as it isn't like a liquid, gel or cream moisturiser (so we'll just stick to serum for now). It's designed for oily and combination skin types prone to breakouts with an anti-bacterial formula. This has been the most perfect moisturiser to use during the summer heat. It sinks in in mere seconds and leaves skin feeling hydrated and balanced. You can barely tell you've put anything on your skin, there's no greasy or tacky feelings as it's just so light.
The Moisture Milk contains a whole host of ingredients to brighten, purify and soothe problem skin. Elemental Herbology really are the bee's knees at researching their formulas and developing patents for their skincare, there's 5 in this alone! I won't pretend I understand them all that well though so we'll skip to some ingredients I'm glad to see...
Containing Glycolic and Lactic acid to improve skin texture, tone, purify pores and reduce breakouts. I'm quite fond of exfoliating products in my routing as they help keep everything ticking over nicely, you must be sure to wear SPF with this at all times though. There's also tea tree, rosemary oil and aloe vera, all excellent ingredients for spot fighting and soothing. I also thought it was interesting that this contains Aceromine, a natural form of vitamin C, to brighten and fade pigmentation. I've been looking into vitamin C serums recently as I hear they're so good for fading scars so every little helps!
I find myself using this more in the evenings, it was especially great during the heatwave as there's nothing worse than thick, heavy creams when you're sweating and trying to sleep. I don't find I need anything else with this after toning as it's moisturising enough but when the weather turns colder I'll layer this with a hydrating serum. The acids will also help keep any flaky skin at bay throughout the day, as I don't know about you but I always come home in winter and look in the mirror to find I've turned into a scaly lizard?! (tad dramatic but you catch my drift...). Since introducing this into my routine I've found my skin has been a lot less oily for this time of year and I definitely think it has helped improve the texture of my skin too. I don't really expect miracles with skincare and this certainly isn't one... but it's really lovely all the same, if you have oily skin I'd really recommend it! :) I only wish I could tell if I was running out.
I've been so impressed with this & my wishlist for Elemental Herbology is ever growing! I was tempted by the Feel Unique Sale & may have ordered this
Weekend Facial Kit
which is 45% off! bargain. Their
Purify & Soothe Cleansing Balm
is also reduced by 30%!! If I wasn't such a cleanser hoarder already... ;)
Have you tried anything from Elemental Herbology?